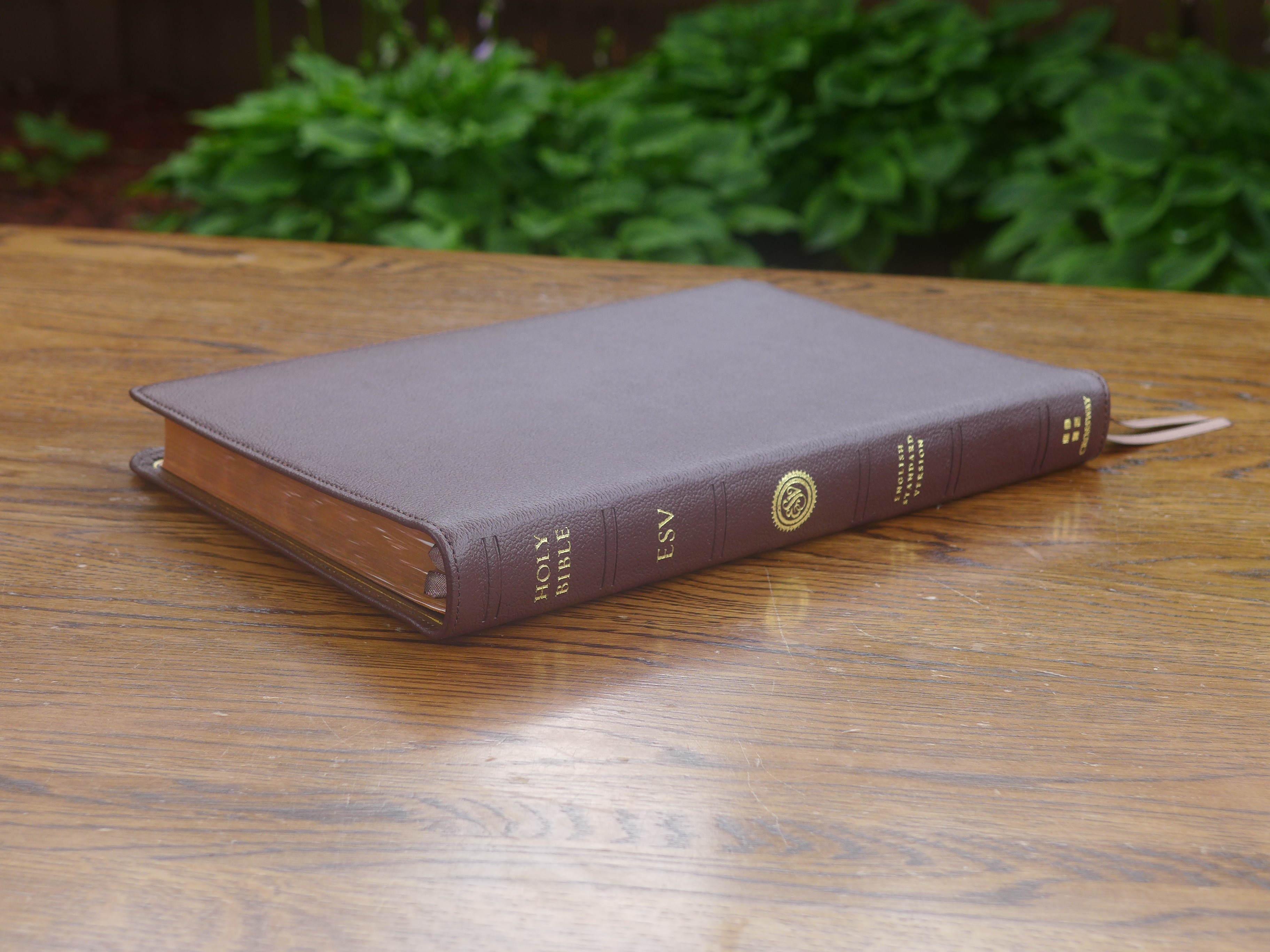 This review will bring my portfolio up-to-date viz a viz Crossway's luxurious Heirloom line of ESV Bibles. I reviewed the Heirloom Omega here (and here), the Heirloom Legacy here (and here), and the Heirloom Wide Margin here. If I've been disappointed by anything at all, it has been the use of what may be "a-tad-thin-for-notetaking" paper on the Wide Margin. Otherwise, I unequivocally recommend each of these editions to the prospective buyer. Crossway does better than any other publisher in providing a wide range of Bibles, from the $2 outreach NT to the $200 +/- Heirloom editions (and everything in between).
The Heirloom Thinline (henceforth "HT") takes perhaps one of the most beloved Bible designs–the "thinline" (or sometimes "slimline")–and ups the ante by printing it in a crisp font on fine European paper, adding beautiful red-under-gold to the page edges, smyth-sewing the binding, and wrapping it all in premium leather covers.
T Y P E S E T T I N G   &   P A P E R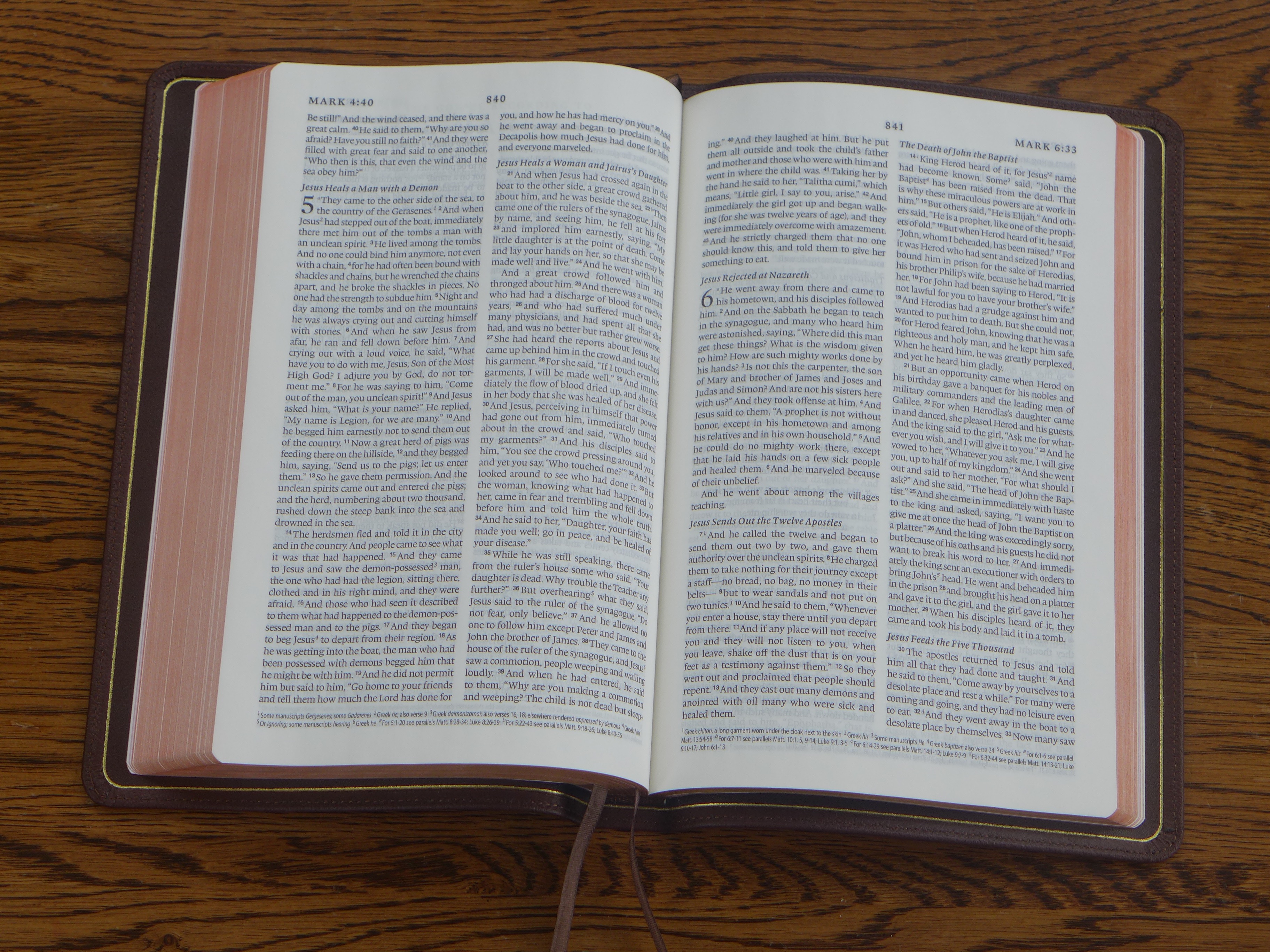 The HT's typesetting is a perfect example of beauty through simplicity. It sets the ESV text in 8 point Lexicon font. Lexicon is by now a famous Bible typeface, and for good reason; it is a clear serif font if ever there was one. And as expected based on the other Heirloom ESVs, the Jongbloed printing is well-defined and dark– almost bold. Personally, I haven't seen another Bible with text quite as crisp as Crossway's Heirloom line.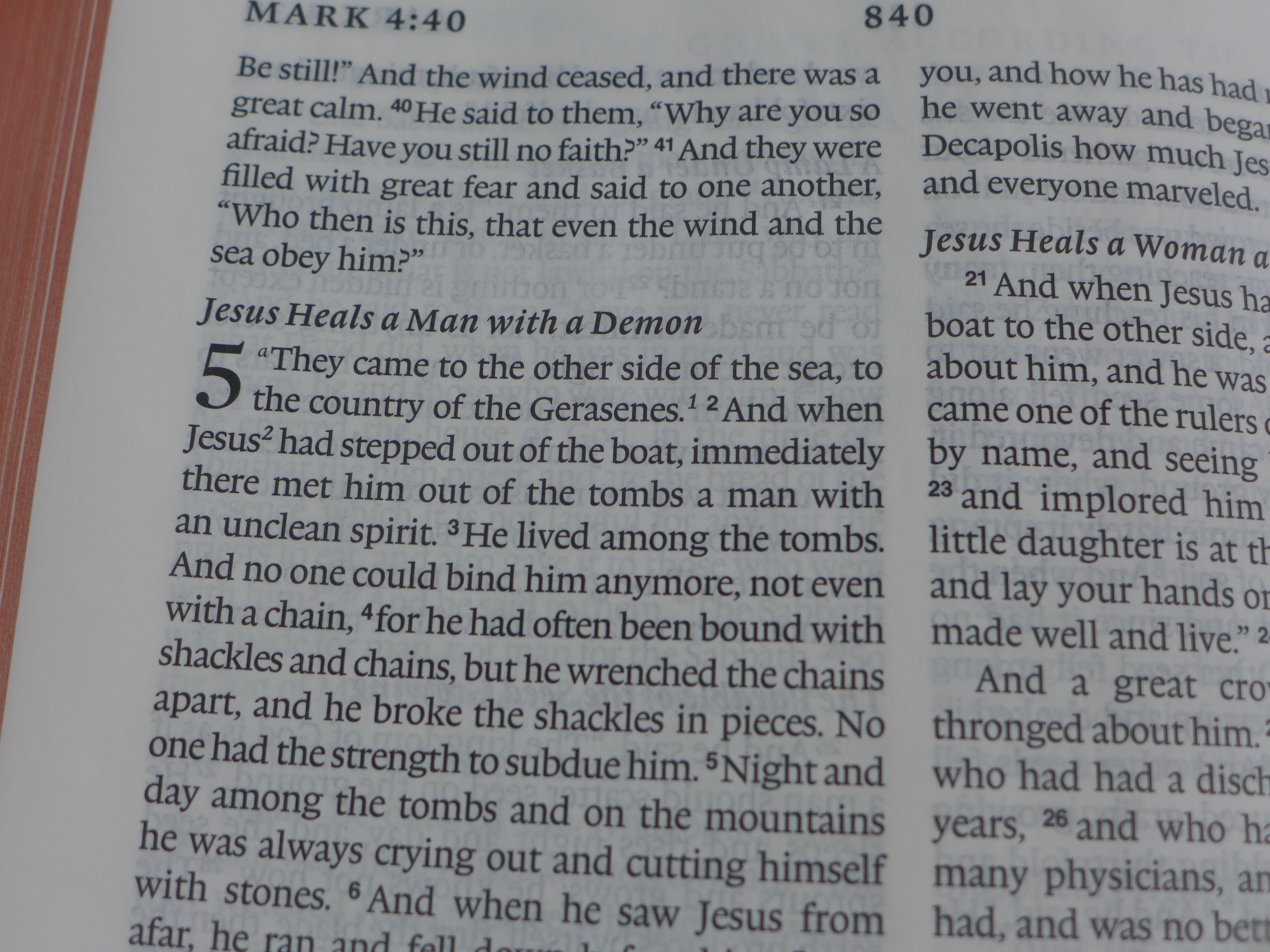 As with all of the Heirloom ESV editions, the HT is printed on 28 GSM Indopaque paper at Jongbloed–creating a good balance for a Bible like this. This paper has an opacity rating of 79, and the ghosting (show-through) is not too bad because the bold font mitigates it. At the same time, the thinness of the paper allows for a greater PPI (pages per inch) number, retaining the beloved less-than-1″ girth of a "ultra thin" Bible. Bottom line: The HT blends portability with readability quite admirably.  As long as we're on the topic, the dimensions are listed at 5.5″ x 8.5″ x <1″.
On the internals, I have only two hesitations. First, the HT paper tends to have a somewhat wrinkled quality on many of the pages (see photo below). I heard this critique from a number of owners, and confirmed it when I received my own copy. This is unnoticeable under most conditions, and probably not present in every copy. But I want potential buyers to be aware of it. I'm sure Crossway will fix this issue in subsequent printings, as its not a quirk I've seen in any of their other Heirlooms.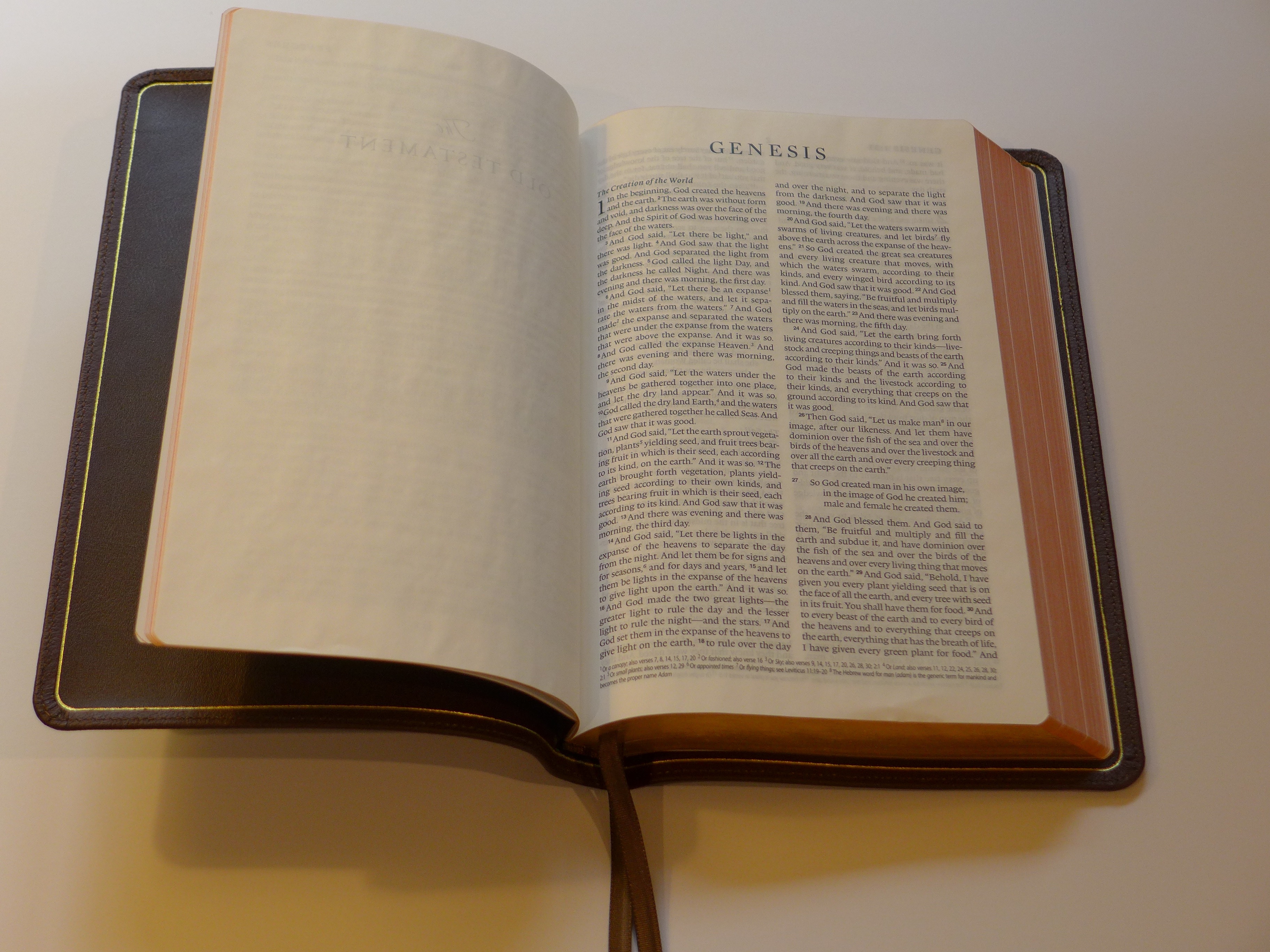 Second, the 8 point font potentially makes this Bible less "future proof" than its big brother, the Heirloom Omega, with its 10 point font. It is true that 8 point font will agree with most readers, but plenty of others (including myself) prefer a larger print.
Below: HT (bottom) compared with Cambridge Pitt Minion (top):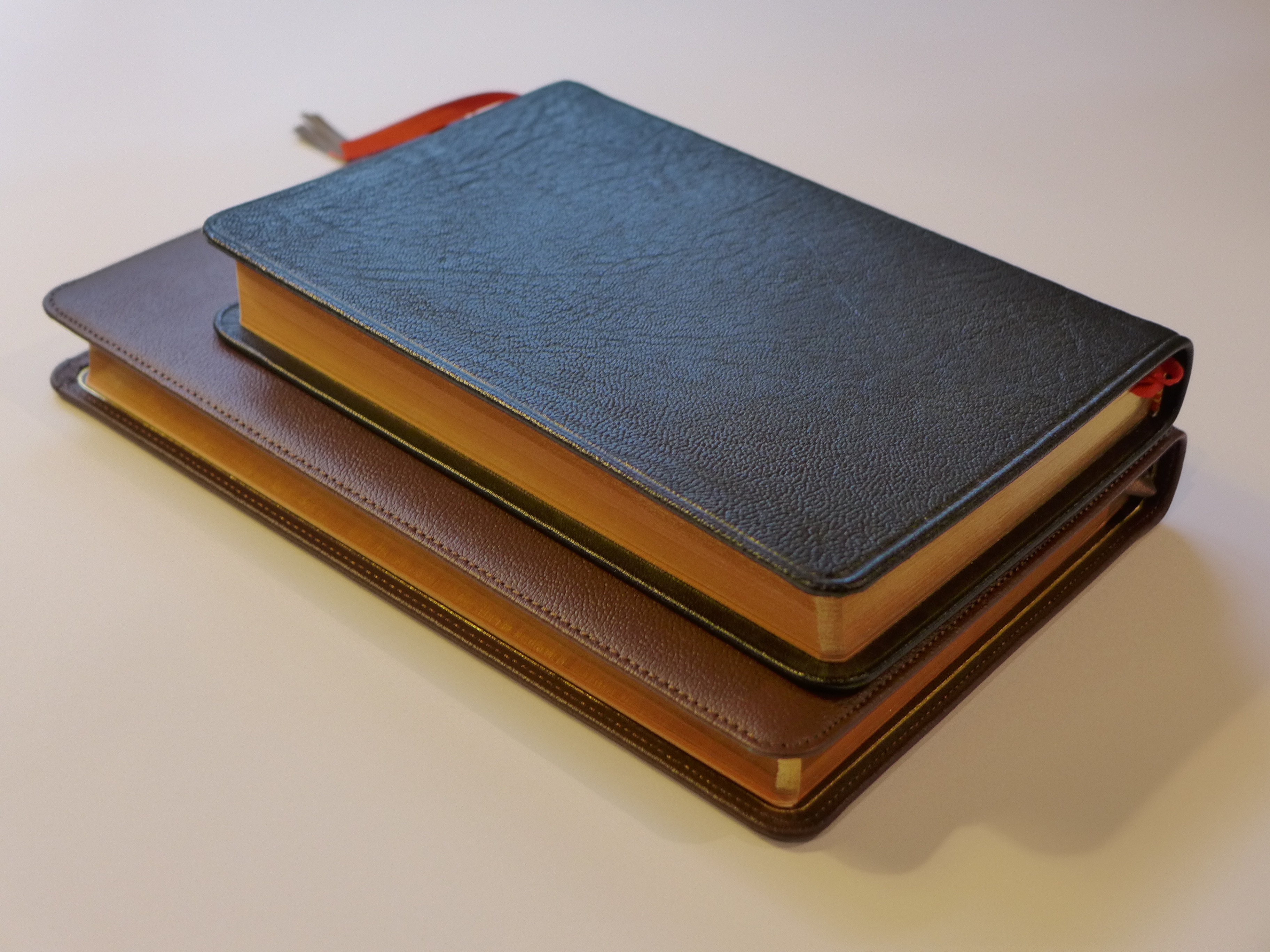 Below: HT (left) compared with Cambridge Pitt Minion (right):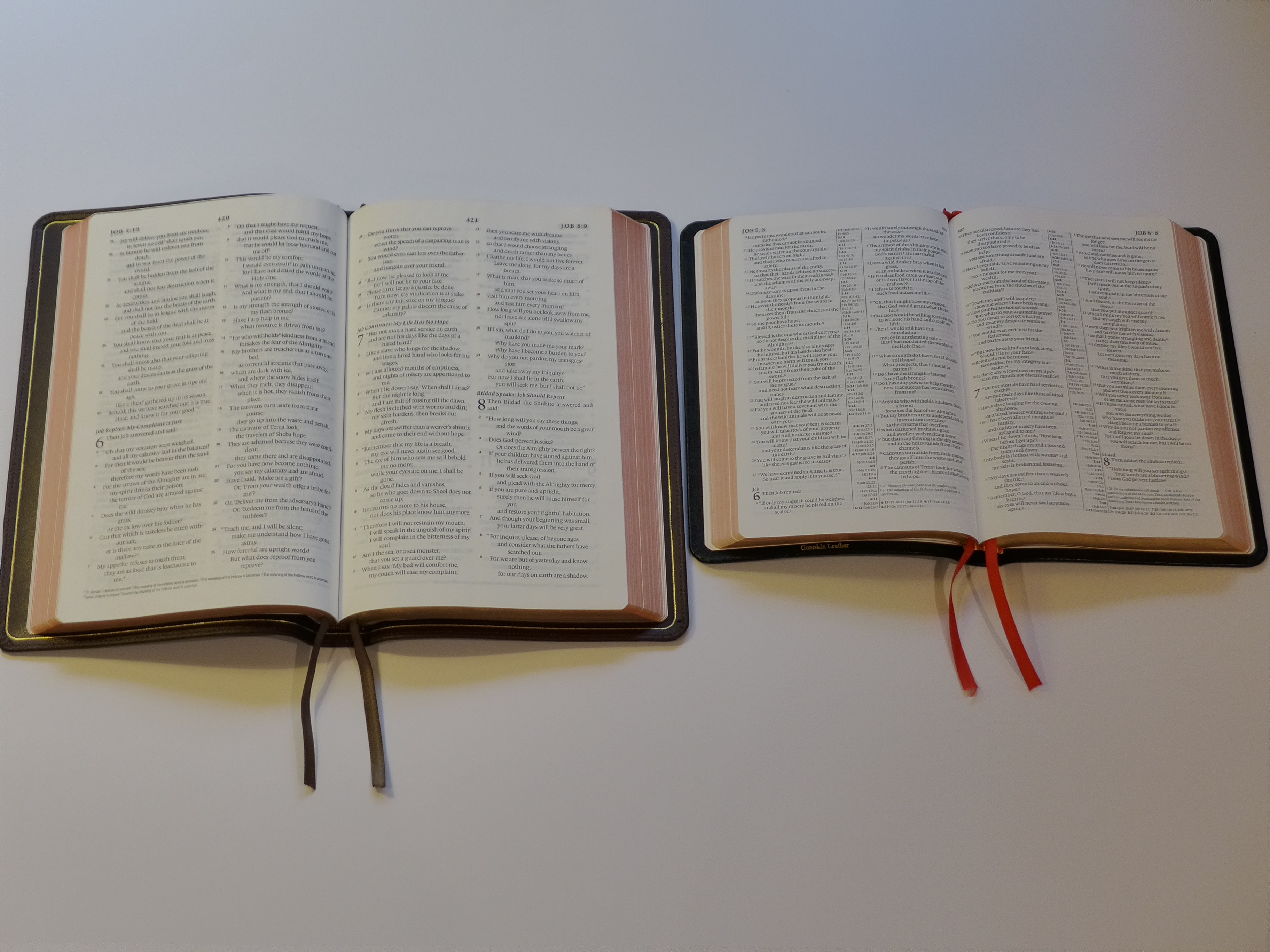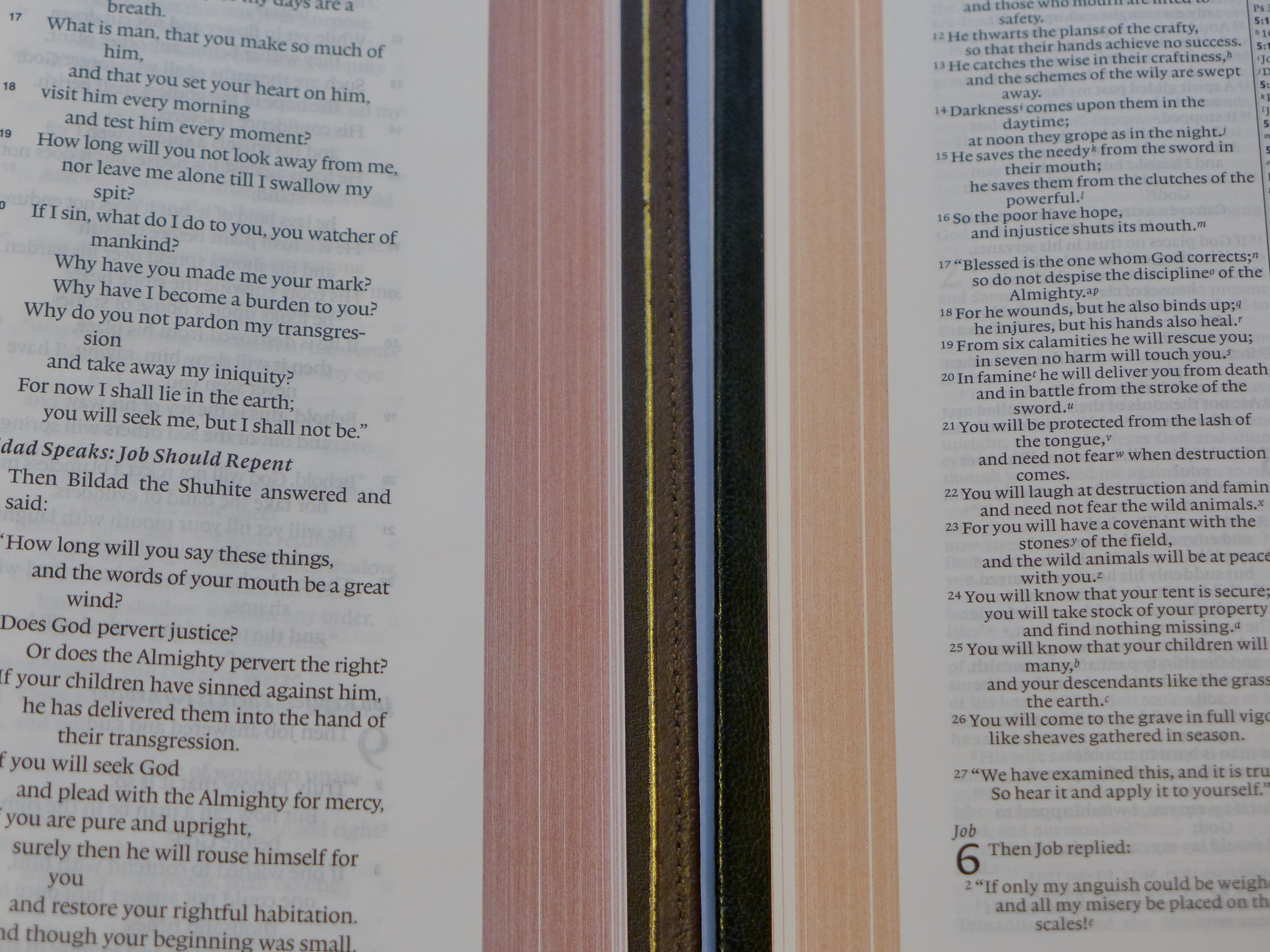 Below: Bottom up: Allan NC1, Heirloom Omega, HT, and Allan ESV1: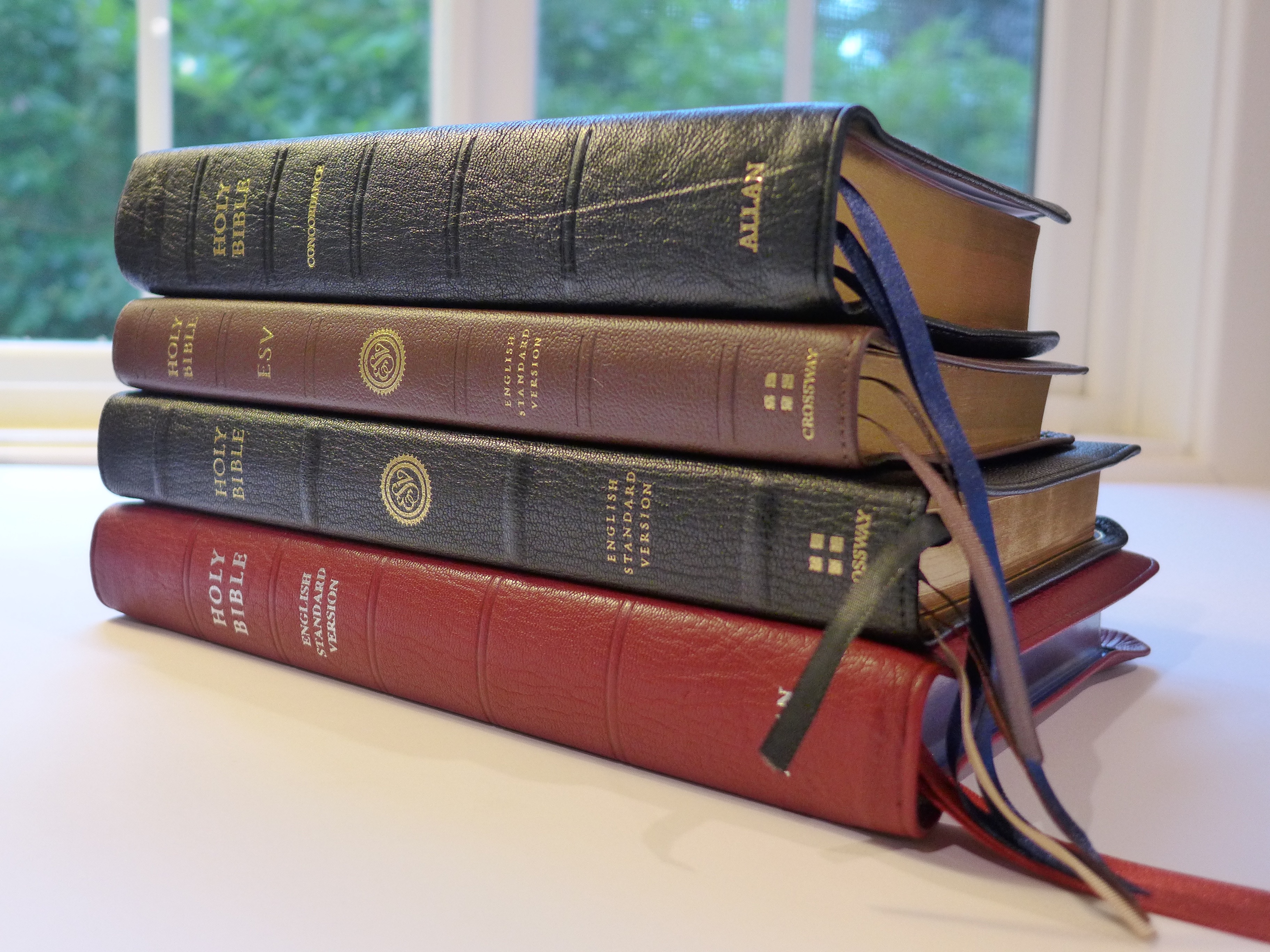 Below: HT (bottom left) compared with Allan ESV1 (top left), Allan NC1 (top right), and Heirloom Omega (bottom right):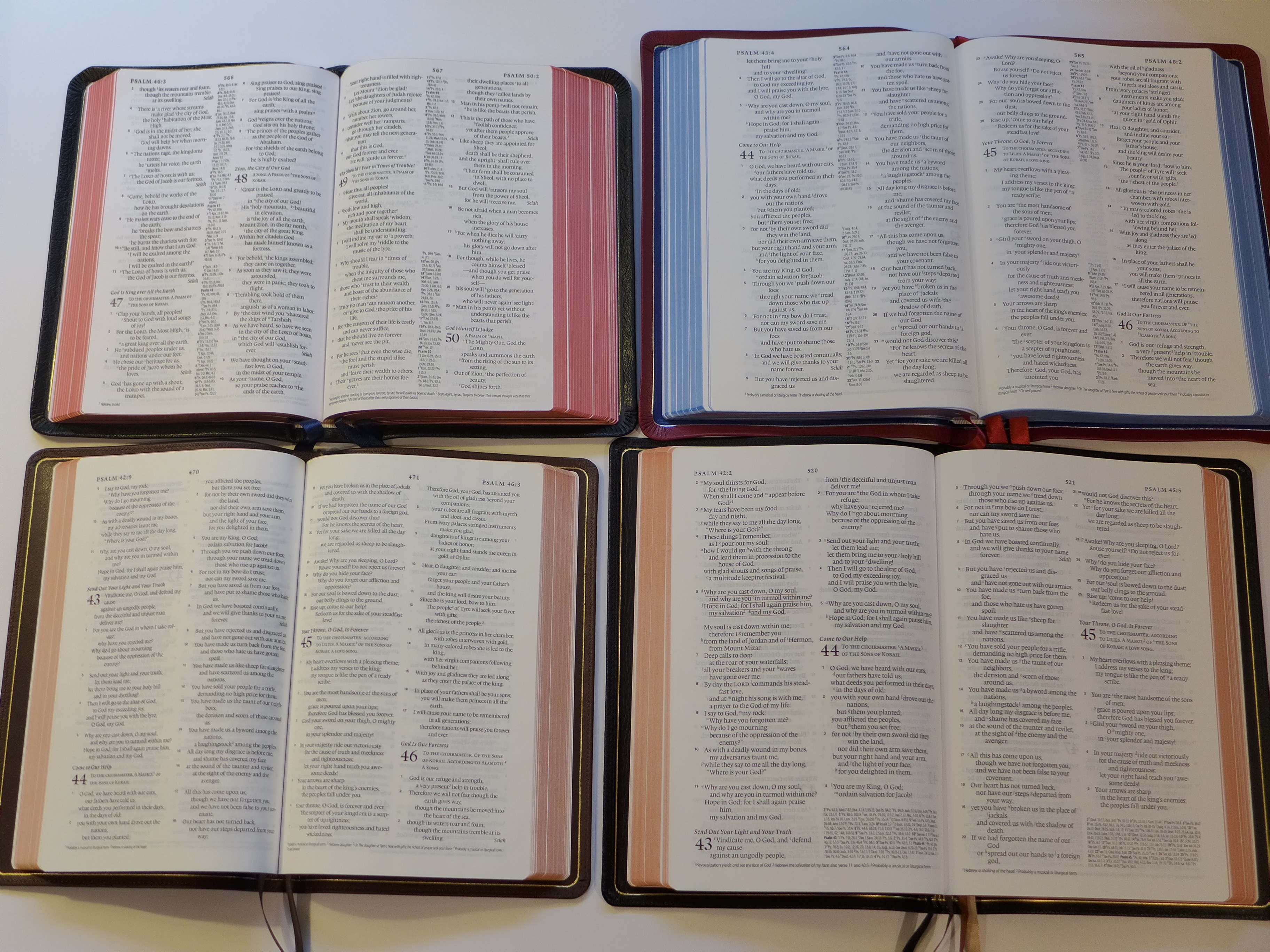 B I N D I N G   &   A C C O U T R E M E N T S
Every other Heirloom to date is only available in two shades of goatskin. I applaud Crossway for making this one available not only in the usual deep brown and black goatskin, but adding a brown and black calfskin option as well. You can accuse me of being complicit in baby cow barbarity all you want, but when offered a choice, I had to test out the calfskin. I have to say, I'm glad I did!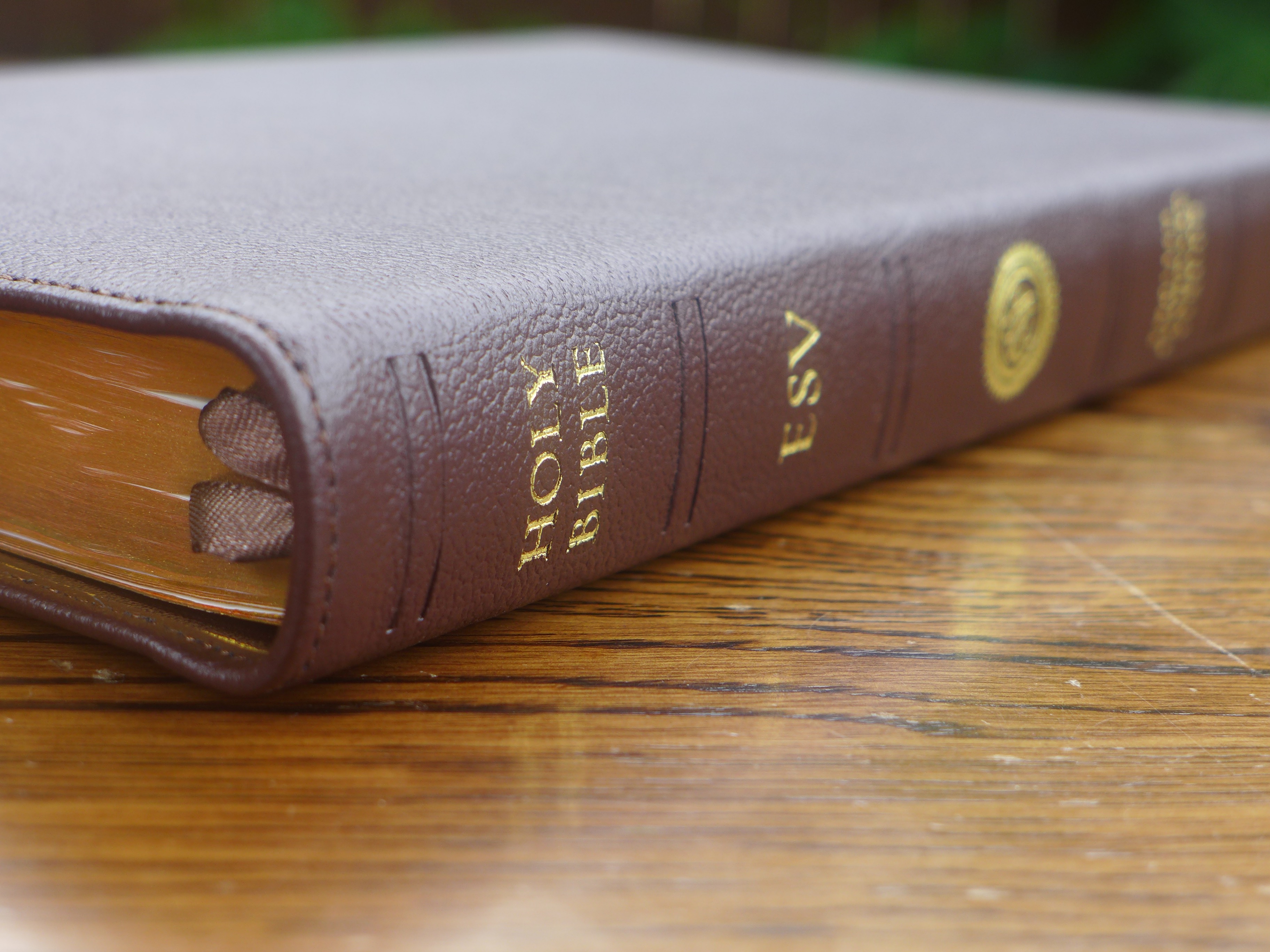 Besides going great with a side of veal, this calfskin shines on a few fronts. First, it is a bit more grippy and less glossy than the goatskin–a nice changeup in an industry that seems to primarily target the world's goat population. Second, this brown is different from most other premium options out there. It is an attractive "mid-brown", perhaps halfway between British Tan and the "deep brown" Heirloom goatskin options. As J. Mark Bertrand observed, its closest comparison would be the calfskin Cambridge Clarion…but that one is a paste-off binding, and the HT is edge-lined…which brings us to the binding itself.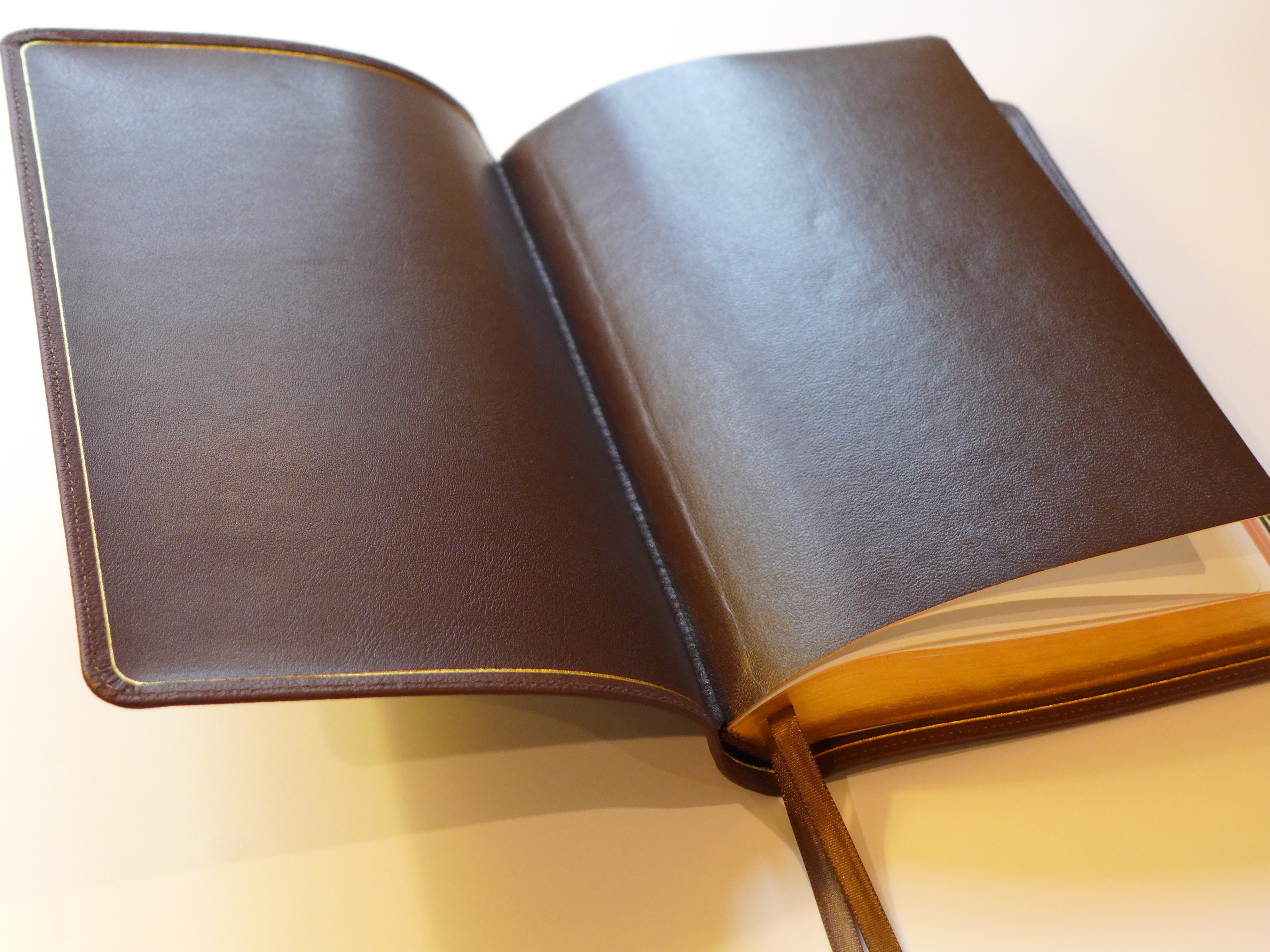 An edge-lined binding means that the cover is attached to the book block by means of leather tabs from the inside liner pasted to the end papers in front and back. The alternative is a paste-off binding, where the cardstock-like end papers themselves are pasted to the cover, thus forming the liner. The merits of edge-lined bindings over paste-down are twofold: First, they make for a more flexible cover, as the liner is leather or polyurethane. Second, edge-lined bindings are generally hailed as longer lasting than paste-off. See this blog post if you're confused about binding styles.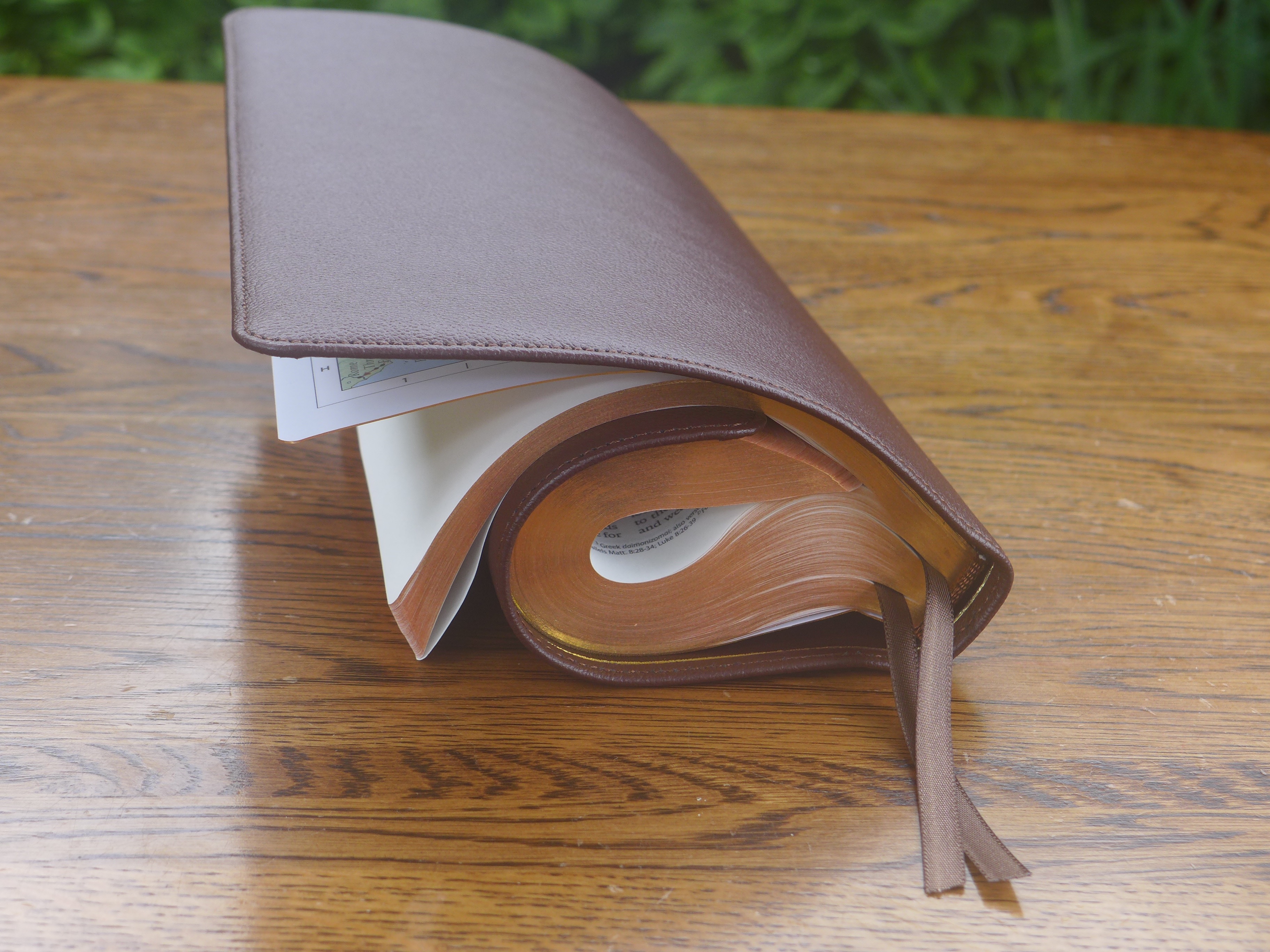 The liner on the HT is bonded leather–much more flexible than the typical cardboard-y liner on paste-off liners, but not as pliable as an Allan Bible. That paired with the relatively stiff, infamous-but–ever-improving Jongbloed tabs makes for a Bible that is, to put it "glass is half full", begging you to break it in with hours of use.
As mentioned earlier, the HT features art-gilding (above), which is the application of red-dye under the traditional gold foil on the page edges. This is a feature that we've seen in many high-end Bibles (including all the Heirloom ESVs), and it holds both aesthetic and pragmatic value; it makes the page edges look classy and wear better. The inside cover features a gold gilt-line around the outside, adding a subtly beautiful frame for the open text block.
Finally, the HT sports two brown ribbons, which do the job just fine. While I love the thicker, more luxurious Berisfords ribbons on Allan Bibles, I think its truly a first-world concern to be bent out of shape over the thinner ribbons of the Heirloom ESVs!
C O N C L U S I O N
The Heirloom Thinline is an obvious necessity for a line of luxury ESVs. My pastor uses it as his preaching Bible, and I'm sure many others find it as handy as he does. It fits in small places, doesn't add much weight, and can travel around the podium comfortably with the preacher…and yet it also features a superbly readable typesetting. The combination of these descriptions is not a given. Crossway has done it again, and I can't wait to see what the next Heirloom ESV will be.
I recommend buying it here.
---
And lest we get lost in leather-bound English-Bible luxury, please remember to pray for translations in the remaining 1,859 Bible-less languages in our world. Click here to see my heart on the matter and to even support the work of Bible translation.